Baker Spirit Badge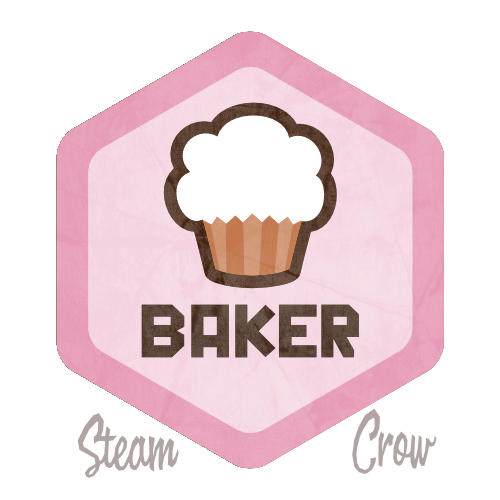 The Baker Spirit Badge celebrates the creative cook… the baker! Flour power!
Levels
There is but 1 level of the Baker Badge.
Fact
Dawna is a really solid baker, especially with her cast iron sour dough starter. Daniel was a baker in the 90's, baking bagels, muffins, and pastries while he went to College and played in bands.

Point Value
The Baker Badge is worth 25 Karma points, the same as most Spirit Badges.
Symbology
Pink is how good baking makes me feel.
Rarity
This is a common badge. You can get one here!
PERSONAL RANGER CHALLENGE
To fully earn the Baker Spirit Badge the Ranger must:
Research baking recipes.
Bake 3 loaves of homemade bread, cookies, muffins, cupcakes, etc.
Share your baking with another Ranger
Victory!
Bonus: make and maintain a sour dough starter. (You won't be sorry.)
You don't turn this in for credit; you simply log it into your Rangers Sketchbook – Ranger's Honor!
Good luck, Ranger!
Unlocked By