[vc_row padding_setting="1″ desktop_padding="no-padding-tb" ipad_padding="sm-no-padding-top" mobile_padding="xs-no-padding-top"][vc_column padding_setting="1″ desktop_padding="no-padding-tb"][vc_single_image image="34165″ img_size="full"][vc_column_text]Camp out at Monstro Camp Western Washington, the infrequent and audacious campout of the Monster Rangers. Participate in song, story, and ceremony – and celebrate the Monsters with our community of kind, quirky folks.
The CAMPSITE purchase reserves you:
1 automobile pass (Please carpool)
1 campsite (It may include more than one tent – can include a whole family!)
2 exclusive Monstro Camp 2018 Spirit Badges
Entry into all Monster Ranger activities
Each Day Pass comes with an exclusive Monstro Camp Spirit Badge (1).
– – –
STARTS
3:00 pm August 17, 2018
ENDS
12:00 noon August 19, 2018
WHERE
Tolt-MacDonald Large Group Site
Tolt MacDonald Park and Campground is just 40 minutes from downtown Seattle and a short drive from Redmond in the town of Carnation. The 574-acre park is a true recreation destination at the confluence of the Snoqualmie and Tolt Rivers and features stunning views of the river and Cascade Foothills. And don't forget your mountain bike! There are miles of trails on the Ames Lake Plateau that can be reached from the park.
---
WHAT
An ADULT CAMPOUT that is kid friendly
Creative Workshops
Games
Tea & Stitches with Dawna
Hiking
Pot Luck Supper Friday & Saturday eve
Secret Ceremonies
Songs
An escape from technology
Fun with our quirky community
Monsters!
SCHEDULE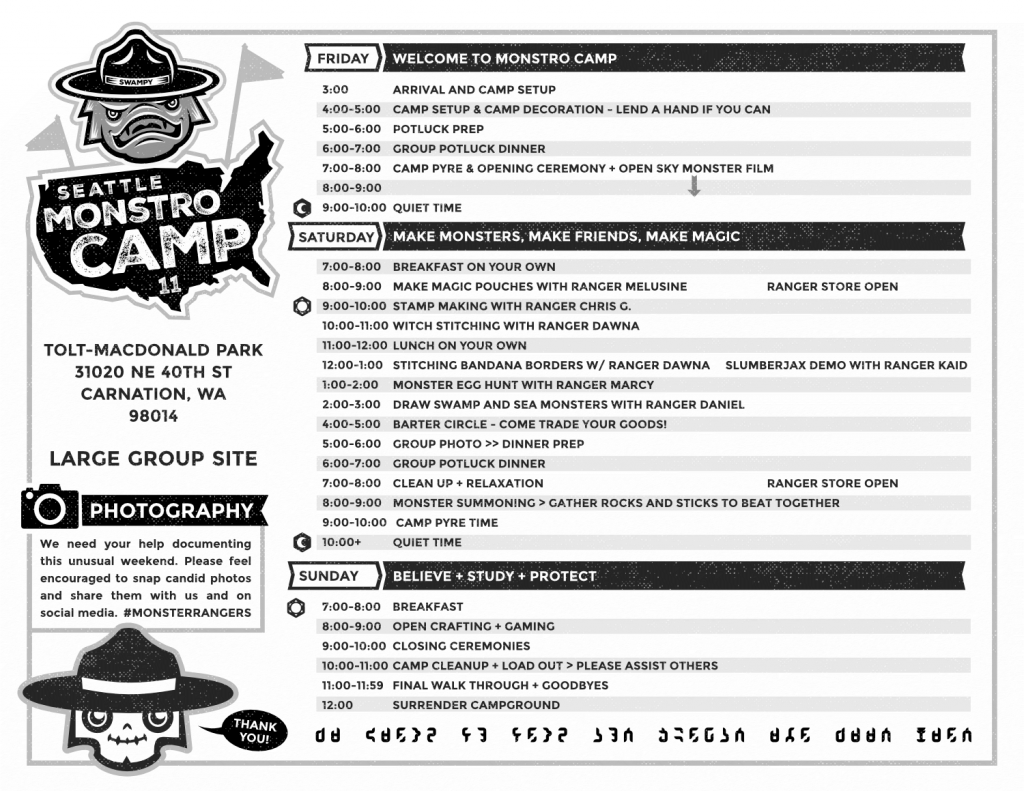 Printable PDF – Please download and bring a copy!
WHO
All-Ages
Friends of Steam Crow
Monster Scouts
GLBT Friendly
Everyone is welcome
Hosted by Daniel & Dawna of Steam Crow
WHY
We are fun
A creative reset is empowering
It's nice to get out of your routine
We believe in monsters
Because we cannot be stopped (by Monsterologists)
Notes:
Pack Light: Camp is across a 500 ft suspension bridge and a quarter mile hike
Wheelbarrows are provided, but there are not many of them
Dogs are welcome
There is a $5 car pass per day (including if you come for just the day.) Paid for at the park gate.
No tickets will be sent out; check-in at the Monster Rangers tent
Additional Monstro Camp badges will be available on site, while supplies last!
Sorry, no refunds if you have to cancel

Reserve your camp before they sell out!
---
Quicklinks:
Release Form <- Please fill out! Required!
Monstro Camp California Schedule PDF (Print it and bring it!)
Potluck Spreadsheet – so we all don't bring the same thing. Fill it out!
[/vc_column_text][/vc_column][/vc_row]