The Doomwood Derby is a racing event for unpowered, unmanned miniature cars, featuring weird characters. It was started by the Skull Rangers back in the early 1900's, when the lonely Rangers would have races of ghost-pulled toys (then called "Reaper Racers".) Eventually, the tradition spread from graveyard to graveyard, and then to the various Barrows… where it was adopted as a Monster Rangers tradition… with 4 wheels, called "DOOMWOOD DERBY."
We've recently uncovered some of the first Doomwood Derby cars (shown in these photos by Tim Schuessler), and we've designed kits around those first designs.
Kits are intended for folks over 18, though we'd certainly hope that adult Monster Rangers would assist Monster Rangers Jrs with their cars.
THE RULES
We don't love rules, but sometimes you need them.
Do not make your racer wider than the axel. (1.5 inches.) You can go up to 1.6 inches wide, but you're asking for trouble.
Keep your racer under 5.4 inches tall. We'd recommend around 4.5 inches as more ideal.
Keep your racer under 6 inches long. Stock car is 5.9 inches long.
You must use the official Doomwood Derby kit as the base of your car.
You must keep the stock wooden wheels and steel axel.
Maximum weight limit: 5.2 oz.
If you do not follow the rules, your Derby Car will probably be disqualified for regular races.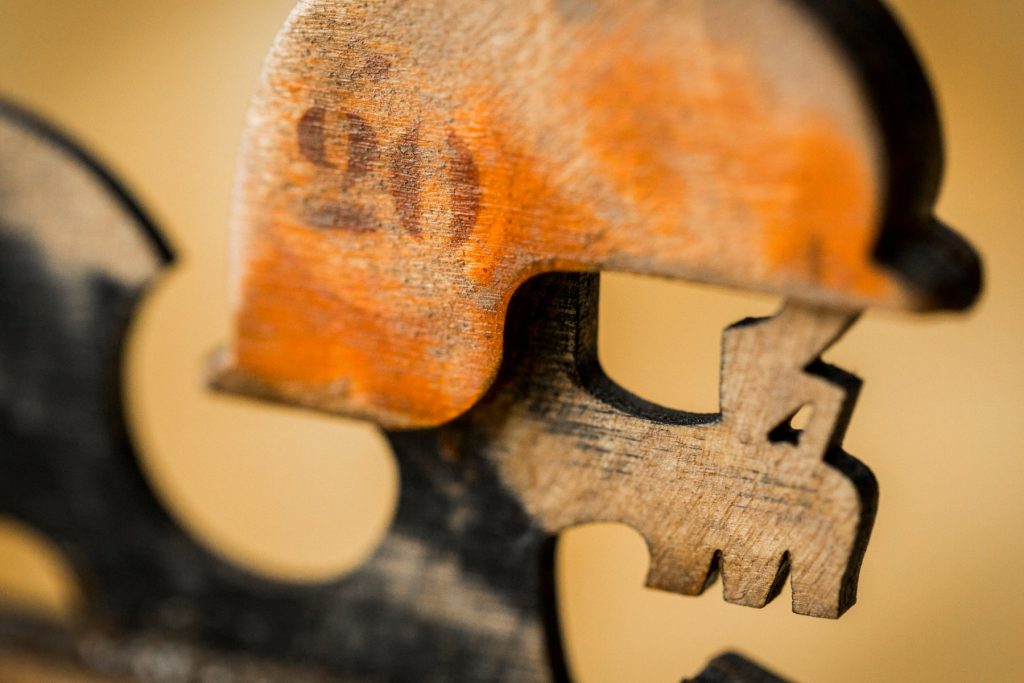 THE RACES
We're planning on bringing Doomwood Derby races to each Monstro Camp in 2020, along with races at the Crows Carnival and WeenHallow events, in Phoenix.
Derbys will have 3 phases:
THE CAR SHOW – where your car is shown off, and graded on it's CREATIVE MERIT.
THE RACES – where we find out who has the fastest car.
UNLIMITED DOOM – A separate race where anything goes, and weird races go head to head, literally.
THE RACES
6 cars will race at one time, and we'll likely do a double elimination for the speed portion of the race. Rangers of all ages will race together.
CREATIVE MERIT
Derby Cars will be judged on the creative merit of their cars:
AESTHETICS 9 pts
Design
Character – How the character is depicted
Color design
CRAFTSMANSHIP 9 pts
Neatness
Quality of build
Workmanship
CREATIVITY 9 pts
Unique vision
Theme
"Rangerness"
Note: the Order of Obscuria Mystery of the Month folks all received complete first edition cars. (No tail wings, orange, with winged "Doomy" mascot.)
Since these cars were built BY the Judges (Daniel & Dawna) it seems egotistical and unfair to rate them highly. These cars will automatically receive a score of 15 in overall Creative Merit.
THE WINNER
The overall winner of each race will be a combination of the standing for both their RACE RESULT and for the best in CREATIVE MERIT.
The best results in both, is our overall DOOMWOOD DERBY Winner.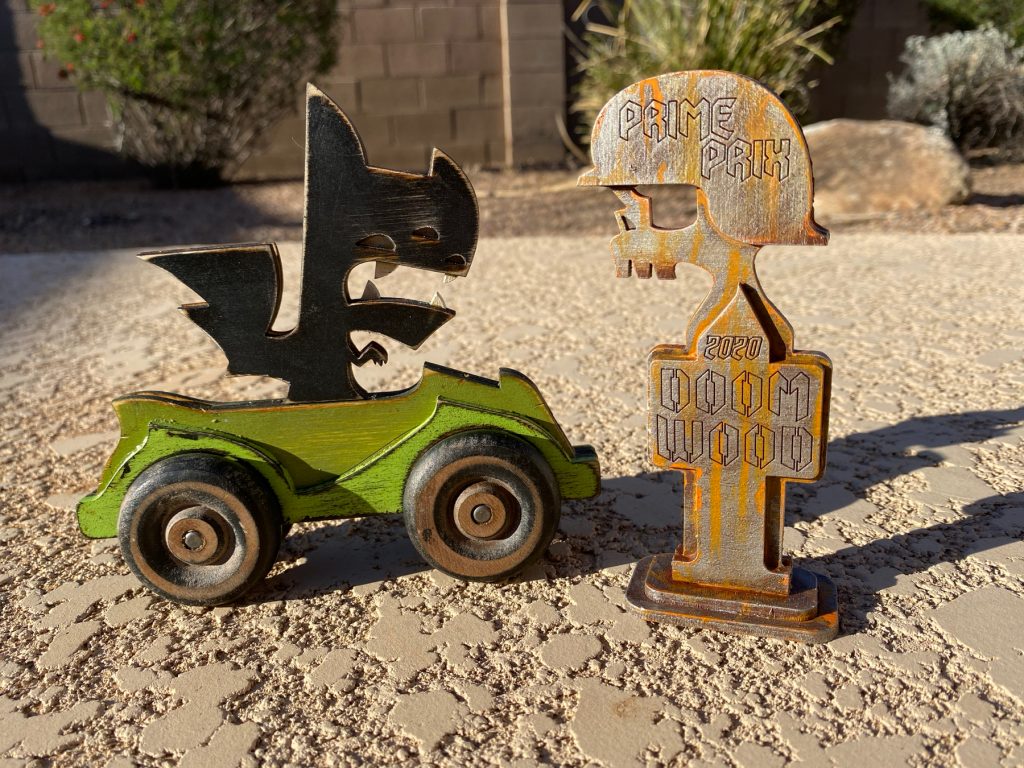 UNLIMITED DOOM
This is a "RACE" where cars (6 per side) go head-to-head and meet in the middle of the track, where they smash together violently. Traps may also be placed on the track by the judges.
Anything goes for how they look/operate
They must still utilize the kit car, wheels, and axels
They must only be 1.5 inches wide (so that they can roll in their lane.)
DOOM IS THE GOAL
The winner is who has the most fun
BEAR WITH US
These rules are a living thing; we've never made such a thing before, and are learning. Rules are subject to adjustment and change.
Please be patient with us, and understand that this is an ACTIVITY that should be fun, whether you WIN or NOT. It should not seed discord, anger, or undue frustration.
If you're only RACING TO WIN; you are doing it wrong.
This is the spirit of the MONSTER RANGERS. I have spoken.
GET YOUR KIT
You too can make your own Doomwood Derby Car with this easy-to-build kit. (Kit includes a character head, not shown.)