Shutter Bug Spirit Badge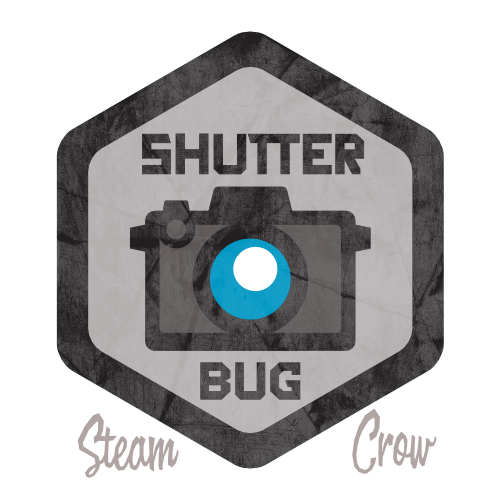 Many Monster Rangers are taking up the brand new, exciting pastime of photography! Certainly it takes a lot of equipment and thousands of dollars for film, wooden cameras, and flash powder, but we wanted to support those of you who are into it.
Levels
There is but 1 level of the Shutter Bug Badge.
Fact
It has been "proven" that photography captures a little of your soul, but that's not all bad. Several Monster Rangers of the years have been rejuvenated from assembled photos after the rest of their soul had been devoured by Night Terrors. (So, they're insurance!)
Point Value
The Shutter Bug Spirit Badge is worth 10 Glory points, the same as most Spirit Badges.

Symbology
The all-seeing lens!
Rarity
This is a common badge. You can get yours here!
PERSONAL RANGER CHALLENGE
To fully earn the Shutterbug Spirit Badge the Ranger must:
Take 10 photos of 10 different Monster Rangers, in the Wilds.
Take a photo of 1 of each of the different Monster Ranger Branches. (1 photo of a Monster Medic, 1 photo of a Conjure Guard, etc.)
Share these photos on our forums and Facebook group.
Bonus: do it with real film.
You don't turn this in for credit; you simply log it into your Rangers Sketchbook – Ranger's Honor!
Good luck, Ranger!
Unlocked By