Surf Host Badge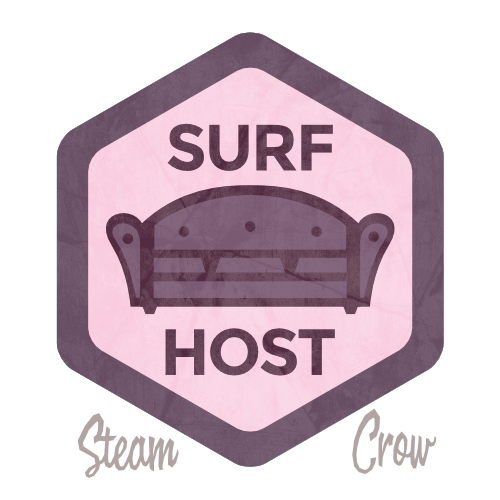 The Surf Host Spirit Badge is offered to those fine folks who host the Steam Crow Crew in their homes – on our various adventures, conventions, and treks. Doing these events is costly, but by hosting us you help keep our costs down and keep our success attainable. Thank you!
Passphrase
"Do you need a place to stay?"
Well, if you hear that we're traveling to a certain region and have a safe, clean place to host us, let us know. Know that we're booking this stuff out about 9 months out.
Levels
There is just 1 level of the Surf Host badge, though it could be tiered at some point.
Fact
We're not allergic to cats, though we are a non-smoking clan. We are thankful for everyone who has helped us out over the years.
Requirements
We need to be within 10 miles of the event center, if possible. (Wherever that particular event is being held)
We need space to park our very large Vanotaur (Nissan NV 3600)
We don't smoke, so no worries, but we don't do well in smoking households
We can bring sleeping bags and such; just let us know what you've got.
Shower access is pretty important to us.
Point Value
This physical badge is worth 300 Glory points.
Symbology
The Couch is the international symbol for Couch Surfing.
Rarity
This is a rare badge since we only sleep in other folks homes, infrequently. But man, does it help.
THANK YOU
Unlocked By