In 2014, we knew that we were facing some business problems. Nothing terrible or anything. in fact, things were going pretty well with Steam Crow; by then it was my and Dawna's full-time and only gig. (Selling our art/no freelance.)
But things could be better as we were working ALL WAKING HOURS/NO DAYS OFF, and our business was stalling.
He were our challenges;
Our brand "Steam Crow" was vaguely about "vintage" monsters, but that was it. It lacked focus.
Average steampunk folks generally didn't like what we were making. (But the name was kinda steampunk.)
We had a retention rate of about 7%, meaning that we had to find 93% new customers at every show.
We had great customers, but little community.
I didn't know how to fix #1 or #2, but I had an idea for #3.
The Idea
So, I had this idea in July of 2014, while staying in an old canvas tent, on my mom's farm in Eastern Washington:
What if we started a Scouting group for our best Steam Crow followers; basically a secret club for our best Patrons, Helpers and Activists, who could collect badges, do missions, and basically share our community with other odd folks?
Me and Dawna really liked the idea, but I wasn't sold on it. It seemed kinda odd and a little weird for us to start, but what the heck. We were trying to find a way to bring meaning to Steam Crow, and this was the best idea we had.
I did some sketches there on the farm in July of 2014, with hexagons, monsters, and a system for linking them together… with story.
On The Road
While we were going  to comic-cons on the road, we started asking our best people about this idea: "So, I want to start a Scouting club for Steam Crow, where you can earn badges, go on missions, and stuff like that."
Overall, the reception was good, so we started designing our first badges out of leather.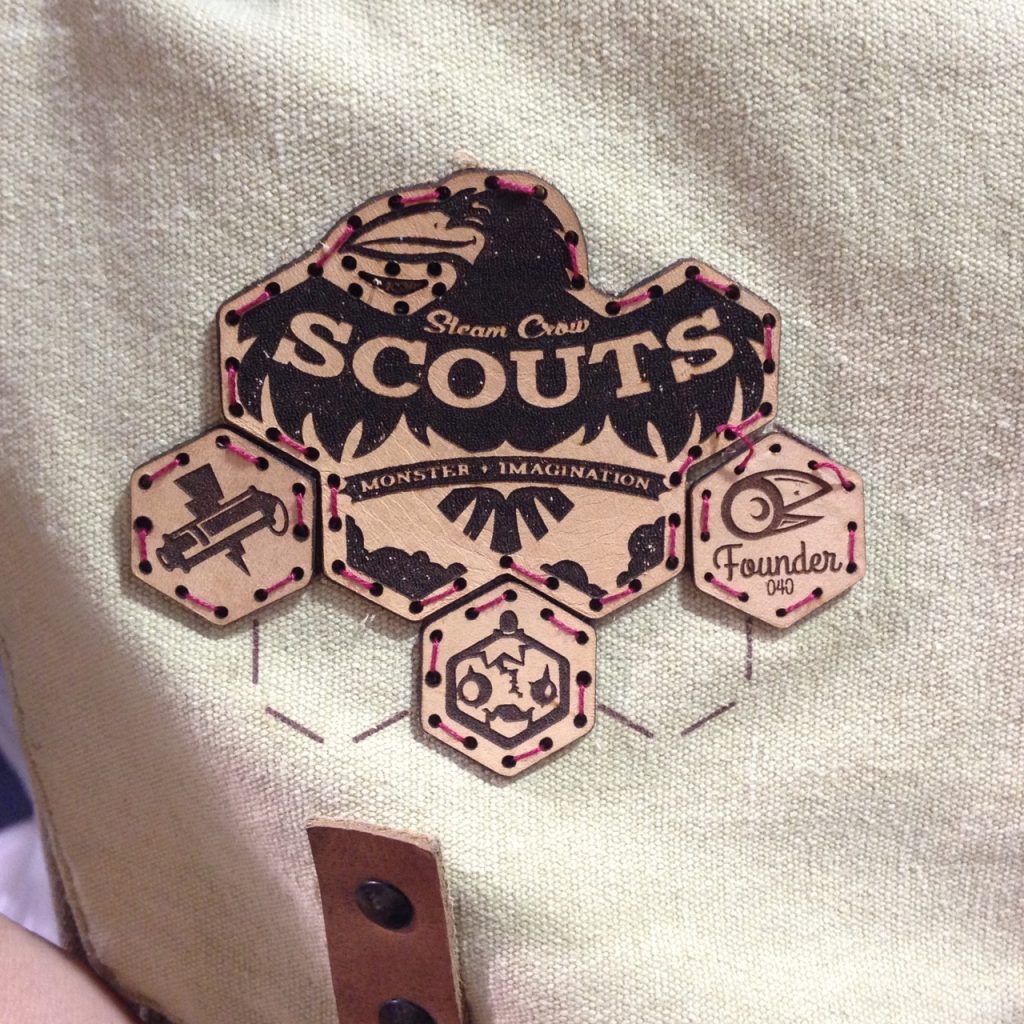 We debuted these at Fan Fest Phoenix, November 2014. We sold a few there, and started to tell folks about them.
By mid 2015 our supplier who etched the leather badges couldn't really keep up, and had his own clients and work to do. So, we were left in the lurch for WonderCon 2015.
The First Test
We found a supplier for cloth badges and decided to do a Kickstarter to really test the idea of Steam Crow Scouts. It was going to cost us $7000.00 to convert our growing catalog, and we just didn't have the cash to do it.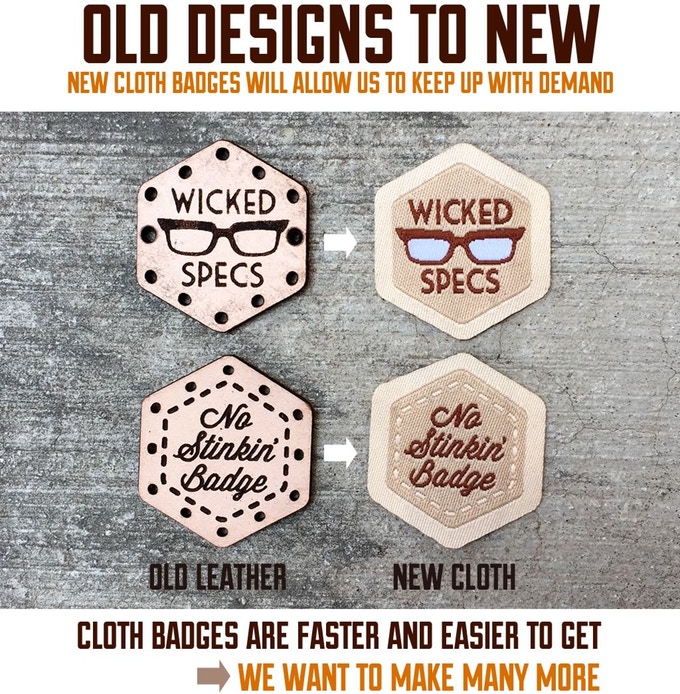 I wasn't 100% sold on the idea, as I've had lots of ideas that I really love without a lot of public interest. I decided that if the Kickstarter made it's goal, I'd dedicate a lot more energy and time to the Scouts. If not, we'd keep on exploring other ideas
The Kickstarter did almost $18,000 in funding, which blew us away. We took the money and invested it in far more designs than the badge conversion, and a screen printing rig for our home studio.
The Name Change
After the Kickstarter I started to see the light. This wasn't some sub-set of Steam Crow; this was brand magic that we were looking for. We decided that "Steam Crow Scouts" was holding back the concept, and decided that "Monster Scouts" was the real name. We registered the url on July of 2015, basically a year into the Scouts.
That was really great, though I had some lingering doubts on whether it was kosher to mess with the Boy Scouts brand. I figured that since we avoided any trademark conflicts (we never used any of there terms, our badges are a different shape and size, and we believe in this imaginary world of monsters) we'd be okay. "Boy Scouts of America" is way different then "Monster Scouts".
Shindig Monster Camps

Scouts started asking for us to host Monster Scouts camps, which was something that we never really anticipated. You see, we exhibit at comic conventions for a living; it's hard, time consuming, and an often grueling experience. Adding a camp seemed like yet another thing to do. But eventually we gave in, and it was amazing!

Of course, we realized that the Scouts were right!! Monster Camps were far more meaningful than doing comic-cons, so we started doing more. In 2017 we'll do 6 in 5 states; in 2018 we'll do more.
Second Scouts Kickstarter
Things were staring to really go well. We did a second Kickstarter to finally put together a Scouts Handbook, develop new patches, and have a steel camp mug made in Poland.


These turned out great, and we did almost $28,000 in funding. (Which we promptly spend on all new products.)
Troubling Fact
After growing the Scouts and doing shows for 2 more years under the "Monster Scouts" moniker, we were altered to a troubling fact: The BSA routinely sues any club that trademarks any "_______ Scouts" name. We ran across Hacker Scouts, Geek Scouts, Maker Scouts – all shut down due to the BSA. Every time we investigated, we found more and more groups that abandoned their "____ Scouts" names, or were simply ruled against due to prior rulings.
We learned that they have a 100 year Charter from Congress, which allows them to use and trademark any thing that they choose.
In essence, the BSA have a free reign to bully anyone who uses the Scouts name, even if there is no likelihood of confusion.
Basically, we had a choice:
Keep using the name, but never Trademark it.
Use the name, Trademark it, and see what happens.
Change our name.
After reading a couple of Trials, we realized that #1 and #2 could very well end up pushing us to #3 anyway.
The Name Change 2.0
On October 1, 2018, we changed our name to "Monster Rangers". The name wasn't exactly the same as "Monster Scouts", but it seemed to be the first name that most of us came up with. We tried a ton of terms, but most were either trademarked or there was no good URL available. (A secondary need.)
So, here we are. We're currently selling through all "Monster Scouts" products and not producing anymore of it. As handbooks sell out, we'll reprint them with "Rangers", same goes for a lot of the other products too.